Elephant Babywearing Sling made of Cotton
Our first jacquard baby wrap made of cotton was supposed to be something very special – and it is!
It is made of 100% high quality cotton and was woven and sewn in Germany.

Every single sling size is unique. The sizes were not created in the sewing room, but already on the loom. Normally, the fabric for jacquard slings is an endless pattern, that is simply cut to the final size and sewn together.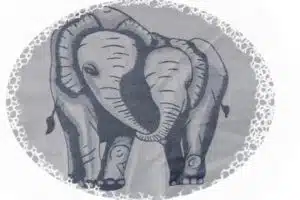 Note:
In the case of our cotton elephant sling, each individual size has already been created during the weaving process, so that two large elephant heads can adorn the ends. This makes each of your tied carry variations an absolute highlight. The centre of the sling is decorated with the mariblum flower. This is also not sewn on, but woven in as a jacquard pattern.
It was quickly decided that elephants would be our motif. They are one of our favourite animals. Did you know that elephants live in a family like humans and are very social animals? They raise their children together and support each other if there are problems.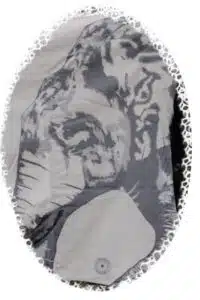 We attach a lot of importance to sustainability and so, of course, regional production with short transport routes is also very important to us. In addition, this weaving mill could guarantee us a very high quality product. You will be able to feel and see that immediately. Due to the weaving, the sling does not tend to pull threads and supports perfectly when carrying your baby. Despite the high weave density, the jacquard baby wrap is beautifully soft and wonderfully cuddly.
Our packages and shipping materials come from BioBiene. This is a manufacturer of organic packaging material that provides us with 100% plastic-free packaging alternatives.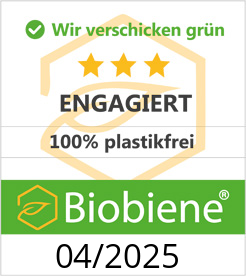 Care Instructions:
To ensure that you enjoy your mariblum cotton sling for a long time, please wash it at 40°C only and do not bleach it. Do not use the tumble dryer! You can iron it, but only up to a maximum ironing temperature of 150°C (we recommend a lower setting). Please do not dry clean!