Sea Breeze – Neckerchief made of organic cotton
At first glance, this neckerchief evokes the effervescent sea. One part is dark blue and one is covered with a wave-like pattern. The neckerchief has been dyed in an organic indigo dye, giving it this beautiful and deep blue.
Notes:
All our neckerchiefs are made in Germany. They are cuddly soft and reliably warm your neck. This is why this product looks so good. All our neckerchiefs are lovingly designed and hand-dyed with vegetal colours.
Our packages and shipping materials come from BioBiene. This is a manufacturer of organic packaging material that provides us with 100% plastic-free packaging alternatives.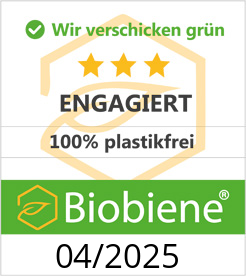 Care Instructions:
We recommend to wash the baby blanket together with similar colours at 40°C choosing a cycle for delicate fabrics. Please do not use bleach and do not tumble dry. The baby blanket can be ironed at a high temperature. Please do not dry clean.