Thank you for your interest in our mariblum – baby sling affiliate programme.
This little guide will lead you through all the steps and menu items. If you still have questions, please feel free to contact us at any time.
Inhalt
Profile

Edit Account
Change Password
Payout Details
REGISTER & LOGIN
Please fill in all required fields to register. Only then can we activate your registration. We will then check whether you are a good choice for us in terms of topic and content. Otherwise, we will contact you or reject your advertisement for the mariblum affiliate programme.
What we are asking for:
your Username – this can be, for example, your company or your consultancy.
your first– and lastname
your e-Mail address – to contact you in case of need
your Websites and Channels – how do you reach your audience?
your biographical information – a few details about yourself, in order to know and assess you better
Country – to adapt our website to your target group/language in the future and to provide you appropriate advertising material.
Please do not share your password with anyone.
Dashboard
The start page of your dashboard shows, from top to bottom, navigation, overview and statistics sections.
Note: Menu layout and interface may change on your smartphone. However, this does not affect functionalities.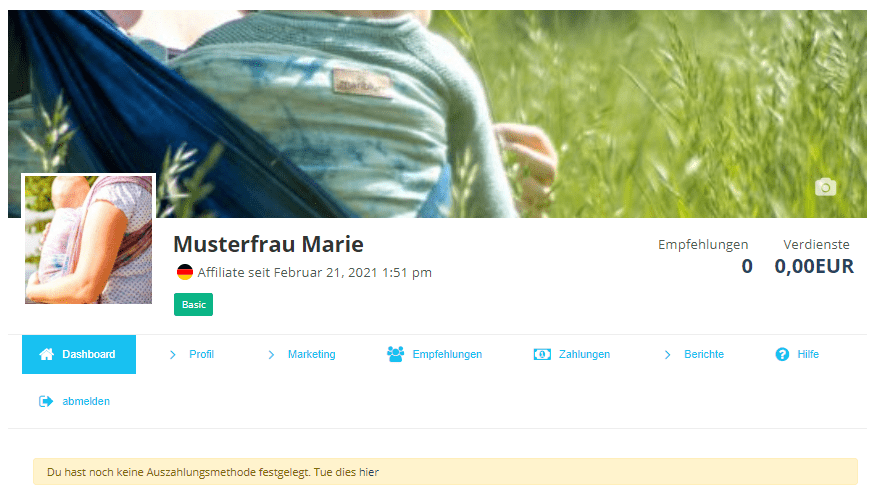 This is the navigation panel. Here you can access individual menus and carry out actions. You can always access this view, even if you are working under a different menu section.

In the overview section of your dashboard home page, you will find a rough overview of your partner account status. This includes the number of referrals you generated as well as the current credit balance and the credit balance already paid out.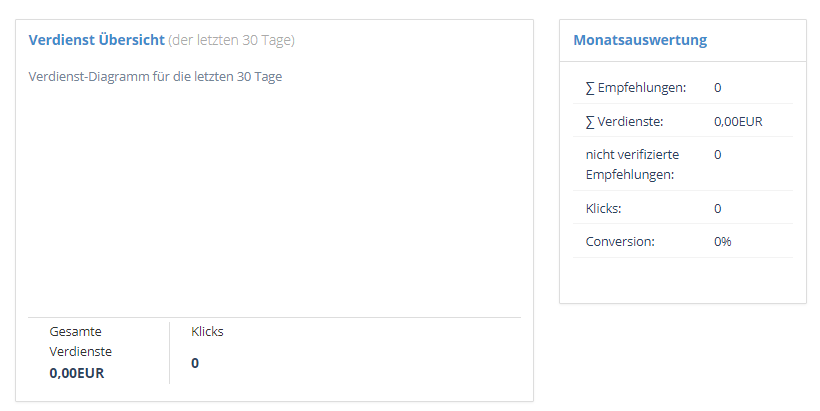 In the statistics section you get an overview of your partner account's development over time. Here you can assign earnings to a day and measure the success of your campaigns.
You can also see the total number of clicks on your links and the resulting conversion rate. It results from the total number of clicks on your affiliate links to the actual sales made.
Note: The total earnings also includes refused referrals due to reversals.
Profile-Menu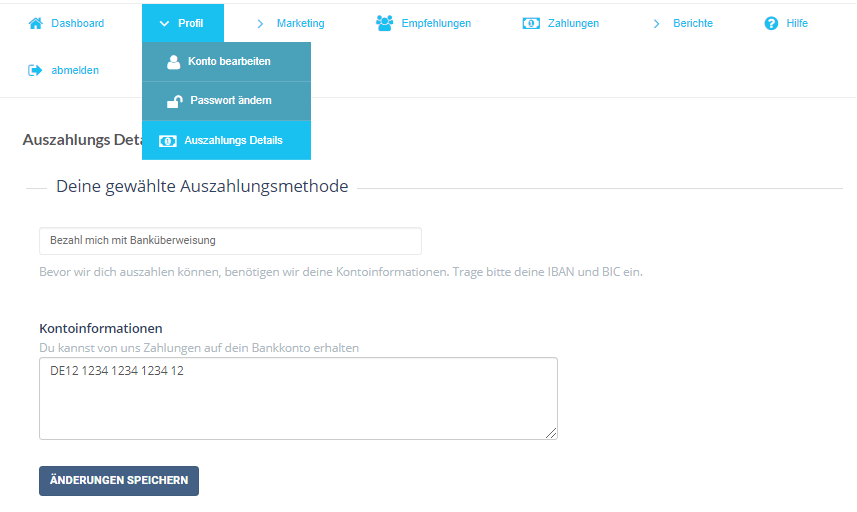 You probably know this section already used by many other applications.
Edit Account:
Here you can change information, such as uploading a profile photo. This gives you a face for us and won't be shown to anyone else.
Change Password:
Here you can also change your password. Do not share your password with anyone!
Payout Details:
ATTENTION!!! Enter your bank account details here. Without a bank account, we cannot transfer your commissions. We are working on offering you more payment options in the future.
.
Marketing-Menu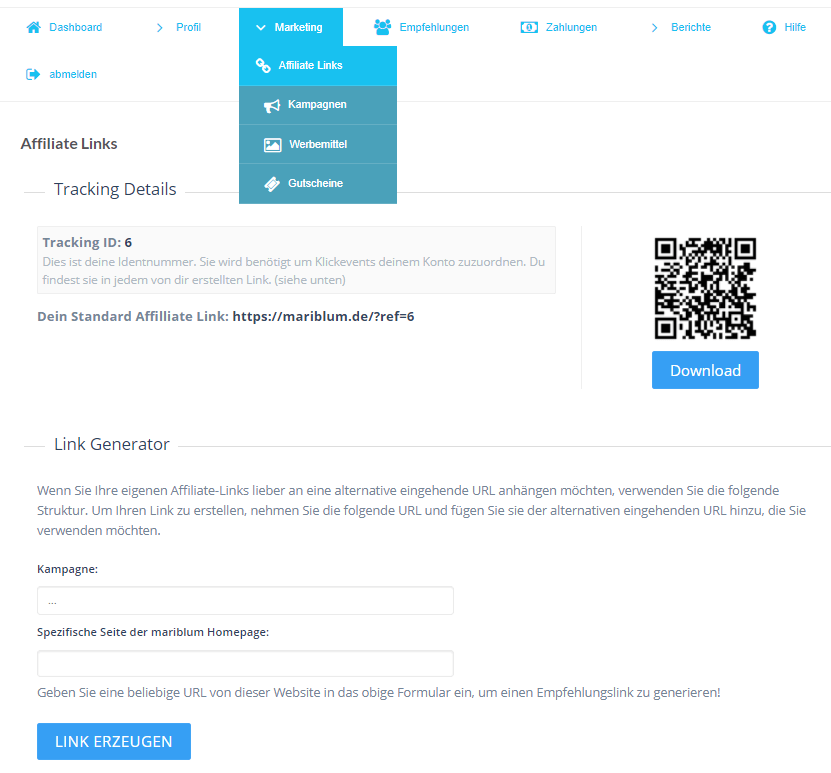 This is the most important area of your user account. Here you will take actions for your marketing menu.
Affiliate Links:
Tracking Details – here you can see your personal tracking ID. You will find it in every link you create. In our screenshot it is n° "6". Thereby we can assign the traffic you generated to our website and track whether a sale has been made through your traffic.
Your standard affiliate link – here you can see the original affiliate link. Once you copy it into your browser, you will be redirected to the mariblum.de homepage where a cookie will be set.
QR-Code – this link is stored in the QR code. As a babywearing counsellor, you can give it to your customers. If you wish, you can also contact us to ask whether we can create an exclusive voucher for your customers.
Link Generator – here you can create a link for your favourite page. Please copy the URL into the text field. You can also associate the link to a campaign. This is interesting if you want to monitor your success with a special promotion.
Note: It is necessary your customer agrees to the cookies on mariblum.de so that your referral can be recorded. The session will only be tracked if the customer agrees!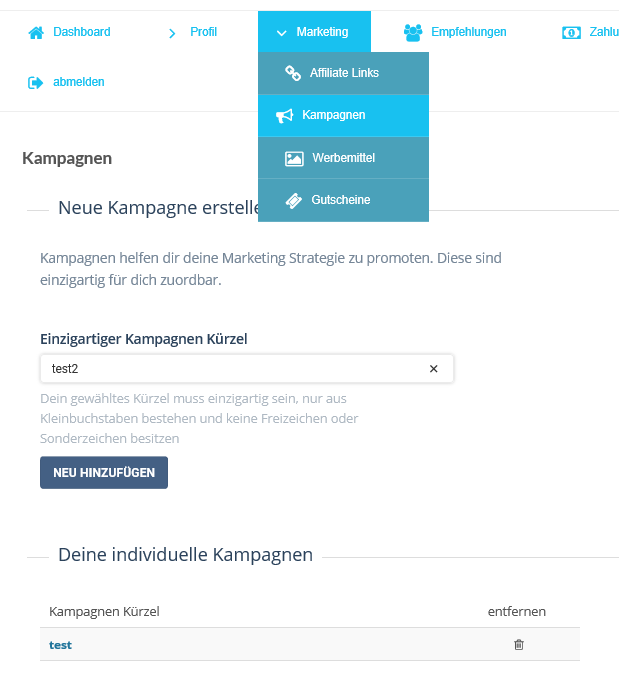 Campaigns:
Create a new campaign – create a custom campaign to test your marketing strategy. Give it a name. We do not recommend using a long name, as this will be visible to everyone in the link or URL. Keep a file in which you write abbreviations you use for each campaign goal.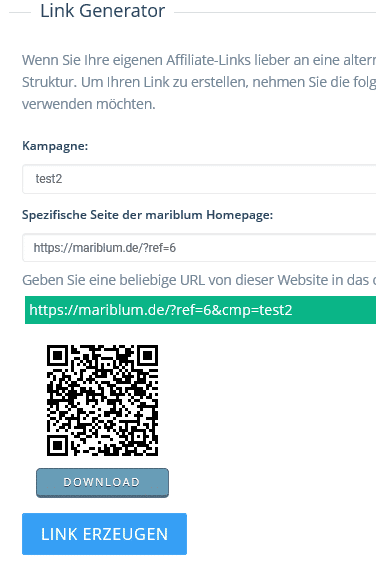 Changing back to the Affiliate Links menu, you can select the campaign you have created and use it to create a link as well as a QR code.
Campaigns make sense if you also want to carry out separate link analyses simultaneously with a blog as a babywearing advisor or influencer.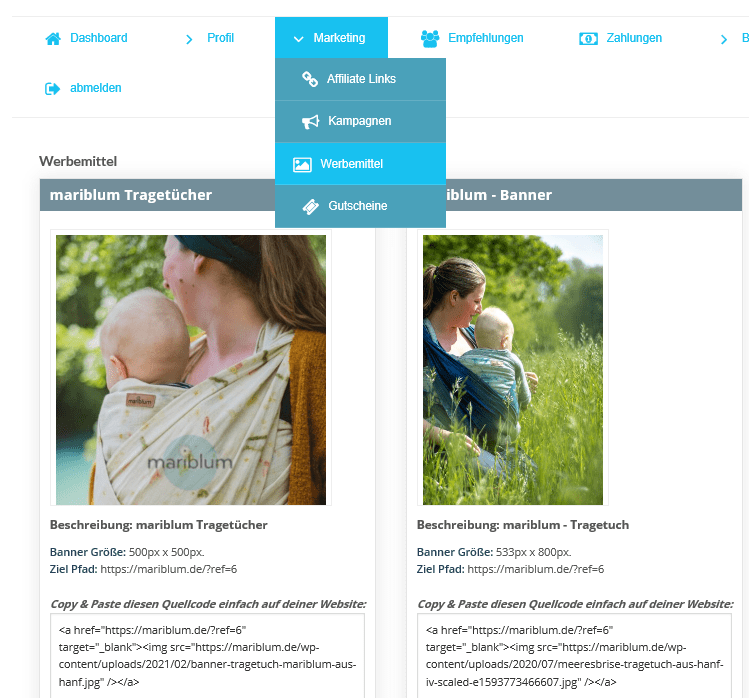 Creatives:
Here we will provide you with up-to-date images at irregular intervals. You can simply copy & paste them onto your homepage.

Note: If you want to link the image to a campaign or change the destination path, you must
modify this href="https://…….." path on your website.
You can easily create new links with our link generator.


Coupons:
When you open your coupons menu, it will probably be empty. That's because we haven't assigned one to your account yet. We always allocate our vouchers individually and they are subject to individual review.
There is no right to a voucher!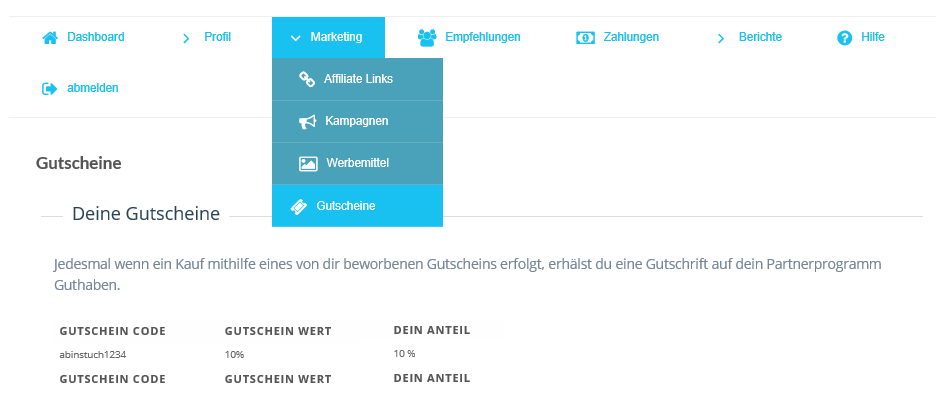 If you request a customised coupon, it will appear on your voucher menu.
Now you can give the coupon code to your customers or promote it on your channels.
You can usually choose the code on your own.
This example shows the value of the coupon. It amounts to 10% of the good value. Coupons are not valid for shipping and for discounted/personalised goods in stock.
Your share indicates the amount of your commission when the customer uses the voucher.
It is calculated as follows:
Earnings = Cart x (100% – 10% [Coupon]) x 10% [your commission] Earnings = (100 € x 90%) x 10%
Earnings = 90 € x 10%
Earnings = 9 €
If you need a voucher for your company or campaign, send us an email:
request for a coupon
Referrals-Menu
The referral menu is still empty when you start with the mariblum affiliate programme.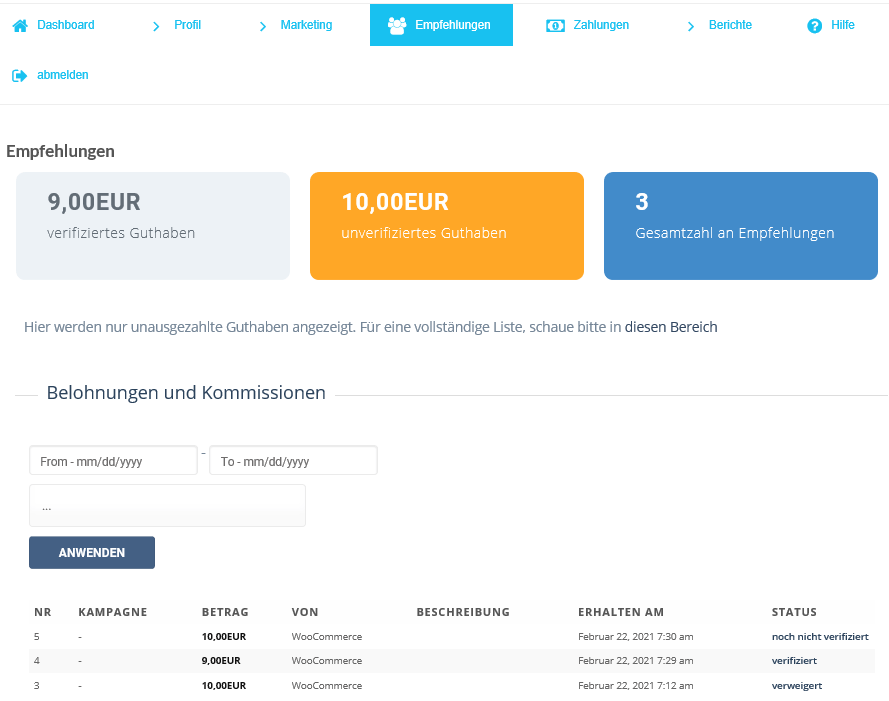 Here you have an example of what happens when a customer places an order via one of your referral links.
The goods have a value of € 100.00. Your share is therefore € 10.00 or € 9.00 with a voucher.
However, the credit balance of No. 5 has not yet been verified. This means that the customer can still exercise his right of withdrawal due to legal rules. In this case, the status will be denied (see No. 3) and the credit cannot be paid out. EU countries do not have a uniform regulation concerning withdrawal rights. In Germany, customers can exercise their right up to two weeks after receiving goods.This means we can only release (verify – see no. 4) the credit after this deadline.
Note: It is necessary your customer agrees to the cookies on mariblum.de so that your referral can be recorded. The session will only be tracked if the customer agrees!

Payment-Menu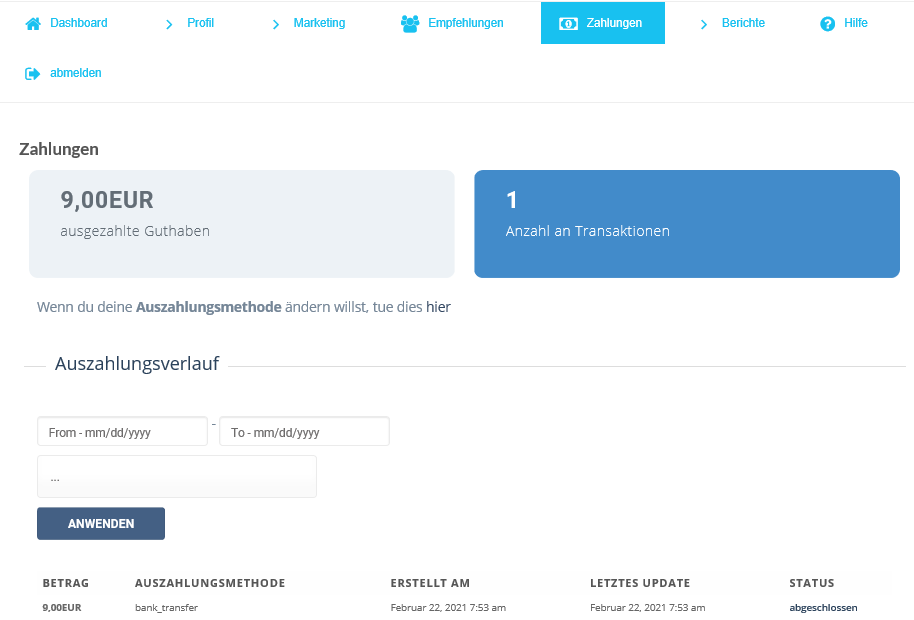 If you want to request a withdrawal, it is necessary to send us an email. We will transfer your verified funds as soon as possible.
In this example, only 9,00 € were verified and transferred to the partner account via bank transfer.
You can see it in your payout history dashboard.
You can find details about bank transfer procedures in our general terms and conditions for affiliate programme.
request withdraw
Reports-Menu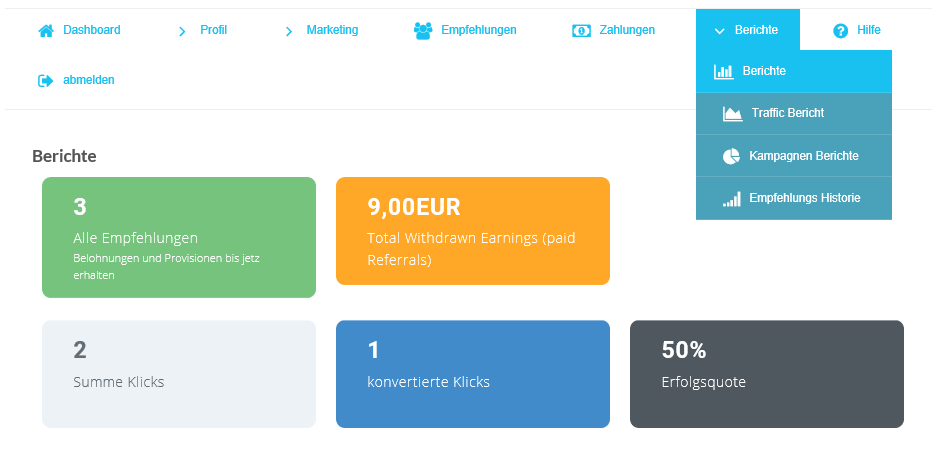 Reports – here you will find general reports about your success rate (conversion rate).
Traffic Report – here you will find anonymised reports about your individual affiliate links – how they performed, etc.
Campaigns Report – the campaign report shows your campaign results.
This includes referrals as well as the total number of link clicks generated.
Referrals History – contains a chart that connects your payouts and your referrals. Here you can see what may still be outstanding.