Silver Lining Blue Neckerchief made of Hemp
This beautiful colorful hemp neckerchief has been given the name "Silver Lining". If you look at it just by the way, you only see a blue neckerchief. But wait, there's more. This blue neckerchief is broken by a stripe, similar to a streak on the horizon. We love this beautiful, blue neckerchief.
All of our neckerchiefs are thin and very stable. This keeps them stable in shape. So they adapt perfectly to your skin without disturbing, almost like a second skin. The blue neckerchief is already quite soft, but becomes noticeably softer when worn. You can find out more about the positive properties of neckerchiefs from hemp here: (more about hemp). But one thing is already revealed: hemp fibers have a cooling effect on warm days and a warming effect on cold days. This makes hemp textiles a perfect companion all year round.
This hand-colored neckerchiefs is a great companion even on longer distances. If you no longer need it, you can easily store it in a pocket to save space.
Note:
This blue neckerchief made of hemp is relatively thin, really nice and soft and still stable in shape. The hemp for the neckerchief comes from fair European cultivation.
Our logo on the hemp neckerchief is made of non-toxic synthetic leather. The sewn-in label is certified and made from recycled polyester. So the artificial leather, like the label, is a copromiss that we have to accept. If you have a suggestion for an alternative, please let us know.
Our packages and shipping materials come from BioBiene. This is a manufacturer of organic packaging material that provides us with 100% plastic-free packaging alternatives.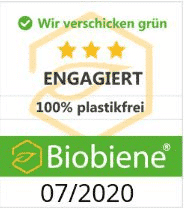 Care instructions:
Hemp textiles love water and do not like dry heat. So, you're doing them a favor by just putting your blue Neckerchief made of hemp in clear water once in a while. You can then iron it with steam in a slightly damp state. Hemp textiles do not like dry heat – please do not put them in the dryer.