Footprint of nature – Baby Blanket made of organic cotton
This beautiful baby blanket, which can also be used as a neckerchief, features summery plant prints. It is absolutely an adorable baby blanket with red and yellow-orange colours. The prints are very accurate and really eye-catching.
Notes:
Our baby blankets are made in Germany. They are cuddly soft and warm your little darling whenever it is necessary. This product looks great around your neck, too. All our baby blankets and scarves are lovingly designed and hand-dyed with vegetal colours.
Our packages and shipping materials come from BioBiene. This is a manufacturer of organic packaging material that provides us with 100% plastic-free packaging alternatives.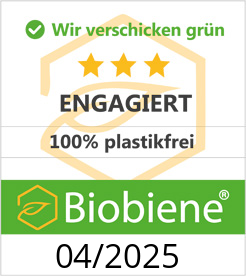 Care Instructions:
We recommend to wash the baby blanket together with similar colours at 40°C choosing a cycle for delicate fabrics. Please do not use bleach and do not tumble dry. The baby blanket can be ironed at a high temperature. Please do not dry clean.